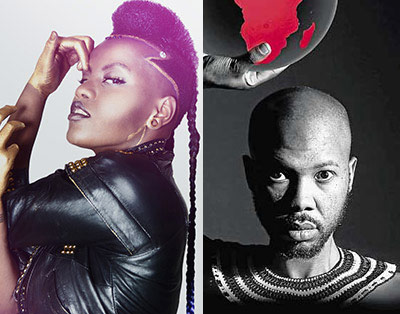 Ground-breaking openly LGBT South African stars Toya Delazy and Majola have been named finalists in the 9thOutmusic Awards.
The awards are run by the New York-based LGBTQ Academy of Recording Arts (LARA), a non-profit organisation created to promote the advancement and appreciation of LGBTQ music.
Delazy has been nominated in three categories for her song Forbidden Fruit: Best International Song, Single of the Year and Best Alternative Song.
The recent video for Forbidden Fruit, which includes same-sex couples kissing, was seen as a major statement by the star on sexual equality and freedom.
Delazy told Mambaonline that she was stunned and excited by the nominations. "Forbidden Fruit was written to create awareness on new age taboos in Africa. I live in an extremely young democracy and 20 years ago we were in a space where different coloured people were not allowed to socialise; that was the forbidden fruit of the time."
She went on to say: "I live in an Africa where there are straights, gays and lesbians – where we are still discovering our freedom. That's why I wrote a song which tells the story of someone discovering themselves, someone who cannot compromise on what they desire, and also exposing Africans to pan sexuality; making them understand that it's something that exists. We love who we love and we live to create who we want to be. No one has the right to dictate on love. Love has no religion."
Majola, who's made a splash with his album Boet Sissy, a work that unrepentantly addresses sexual identity and same-sex love, was nominated in the category of Humanitarian Songwriter of the Year.
"I am so humbled by this nomination," he told Mambaonline. "More especially that I have been recognised in the best Humanitarian Songwriter category, for compassion and courage is what I strive for. To be recognised as a humanitarian so early in my career is such a blessing."
He dedicated the nomination to his late grandmother Nobanzi, "who was the first humanitarian I knew and who had high regard for truth and stood for it."
The awards ceremony will take place in New York City on 19 January.
Source: MamboOnline